There is a great hype about cryptocurrencies and how to make money trading Bitcoin and Altcoins (alternative less known cryptocurrencies). Everyone is talking about how much the price of Bitcoin and Ethereum skyrocketed lately and how this fact created millionaires out of thin air.
People are saying "oh I wish I would be so lucky and invested in Ethereum when it was still 10$". You know what, there are still plenty of opportunities out there. I don't envy people who bought Ethereum for 10$ I envy people who bought it for less than a dollar. Yes you could buy Ethereum for less than a dollar in beginning 2016 and today it is almost 250$ that is a 250 times increase in value. in matter of 1.5 years.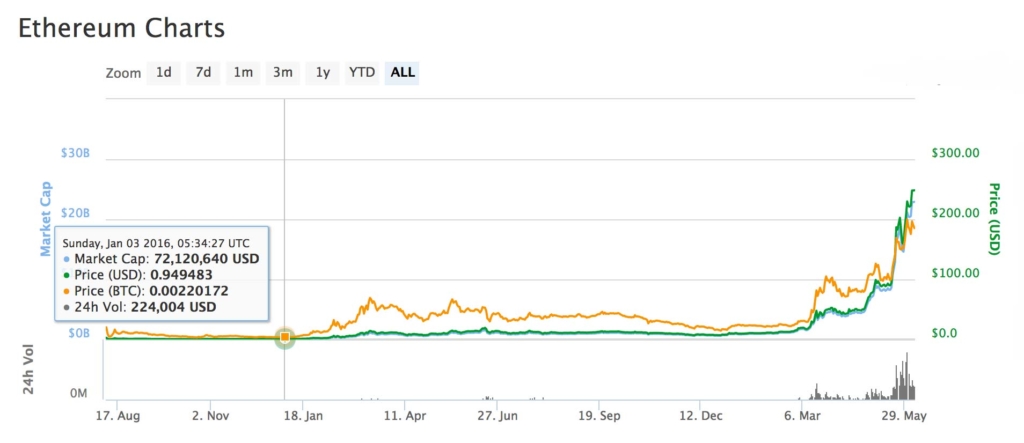 The good news is that there are many alternative coins out there who have the potential to become the next Ethereum and some of them cost less than 1c. So if you want to buy your self a possibility to become a millionaire just buy 10000 coins of every coin that is valued under 1c and you will have a good chance that the value of this coins will increase dramatically. There is no sure way of saying which will be the next Bitcoin but if you plant your seeds now that the coins are still cheap you could earn yourself a great amount of coins that will potentially increase exponentially.



How I am doing this, how do I make money trading Bitcoin / Altcoins?
I use the Bittrex exchange as I find it that it has a nice variety of Altcoins and they have really low fees which makes it perfect for trading Altcoins. I go to https://bittrex.com/Home/Markets and order by lowest price and buy as much as it is in my budget. I hold the coins for a while so that they make me some profit. Most of this coins will make you at least some nice profit as a lot of people are doing the same thing. Once I have made some profit I do some research on the coins I hold. If the coin shows a supper bright future eg. has a brilliant idea behing it I just keep the coins and sometimes even increase my stake in that coin. If it is somewhat good but it has some flaws I sell half of it with profit and reinvest that money into other new coins. If I think it's a shit coin I just sell 80-90% of it in case it explodes and move forward. The coins I think have a great future I tend to hold as long as possible as it will take some time before they will reach their true value.
The best thing with this strategy is that you don't need a ton of money to make this work. You can start with 30-50 $ and you can make some nice profits with this already. My friend invested some money last week for the first time and he already doubled his investment as some of the coins can make even more than 200% increase in value in one day and if you can catch them you are supper lucky.
I think this is a great opportunity as this trend will not last forever and it will be more difficult to find winners among all this new coins but for now we must seise this opportunity and try to make most of it.



I have no idea how to start trading cryptocurrencies?
If you are just starting out with Altcoin trading and don't know where to start read this shoert tutorial on how to start trading on Bittrex the exchange I recommend.
First go to Bittrex and register your new account.
Because Bittrex doesn't offer fiat currency trading (trading your $, £ and € for bitcoins) you have to buy Bitcoin else where
I recommend Coinbase as they have a fast account verification and you can pay with your credit card
Once you have verified your account (their ID upload system is really stupid but don't give up), just buy some Bitcoins and transfer them to Bittrex exchange. I have written a post how to move bitcoinf from Coinbase to Bittrex here and it also has a nice explanation video with it.
The link for Coinbase is an invite link where both of us get a bonus of 10$ once you deposit 100$ or more.
In the future I will write more about the coins I think have a great future comming.
This might also interest you