So how do Coinbase, Bittrex, Kraken and Cex.io compare versus each other. I have tested and am still using Cex.io, Coinbase and Bittrex exchange. I did try to use Kraken but they haven't approved my documents for 2 months and after that time I just didn't bother to transfer any money to them. I will tell you everything that you need to know about this exchanges. All are highly trusted and I never had any issues with the three I use. I don't know if Kraken is any good but just the fact that I wasn't able to deposit anything for 2 months is enough for that I don't have any nice words for them. I must have emailed their support at least 10 times and didn't even respond so I guess if you have any other problems you can't count on support to help you out and that is the last thing you want when it comes to money.

What are the main differences between Coinbase, Bittrex, cex.io and Kraken
So they all have different interfaces and everyone has it's own favourite. My favourite in terms of user interface is definitely cex.io. Coinbase also has a nice looking interface but it is not the most intuitive in my opinion. Bittrex interface look a bit old and can also be confusing to some people.
Coinbase vs Cex.io
The biggest and fundamental difference is that Coinbase and Cex.io offer a limited number of coins, Cex.io offers only Bitcoin and Ethereum and Coinbase also offers Litecoin. On other side Bittrex offers you a plethora of different alternative coins (it has the biggest number of tradable cryptocurrencies among all exchanges at the time of writing this article). But Bittrex has a downside you cannot directly buy bitcoins on their exchange, you have to already own them and than send them to your wallet on Bittrex. So you basically need to open an account either with Coinbase or Cex.io buy your coins there and than sand them to Bittrex if you wish to trade other crypto currencies.



Bittrex vs Kraken
One other difference between Cex.io and Coinbase vs Bittrex is also that on Cex.io and Coinbase you can sell you crypto currencies for fiat currency where you can't do that on Bittrex. On Bittrex you can convert your cryptos to USDT (tether) which is a USD backed crypto currency and is as stable as USD but the down side is that it usually has a really high spread which means that you cannot do day trading with it as it eats all of your profits.
Transferring your cryptos back to Coinbase or Cex.io also involves some costs and can be time consuming if you are sending Bitcoin as it can take several hours before the transaction is confirmed.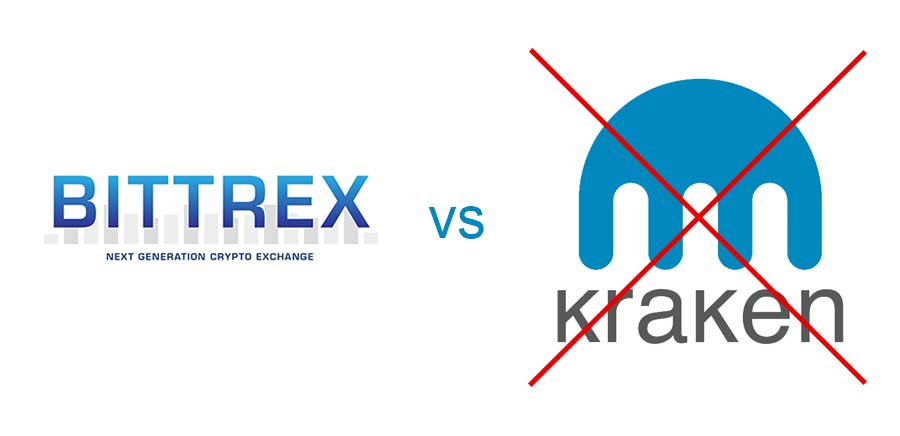 Which exchange would I recommend?
I would say that you have to have an account either with Cex.io or Coinbase, there really is no big difference between them and you absolutely have to have an account on Bittrex so you can take full advantage of trading all altcoins and if you are lucky strike gold and buy the next Bitcoin or Ethereum for cents.



For easier use you can read my post I have written about how to deposit money on Coinbase and transfer it to Bittrex. Here is also my own strategy I use to trade altcoins for higher profit.
My Personal Advice on how to start trading cryptocurrencies
Before you go and sell your house to invest into crypto only because you heard someone made a fortune please be advise that the price can go down considerably and you could potentially lose all your money. Please take my advice start slow, don't invest everything at once and invest only the money you can afford to lose. Once you have made some profits and have gathered more knowledge add more money if you really wish to.